Long Distance Moving Service
If you are planning a move across the country, you know what a daunting task a long-distance move can be! That's why you should use Elate Moving, the premier long-distance movers in NYC! Whether you're moving from New York City to a new metropolis across the country, or to a smaller town in another state, Elate Moving has the professionalism and experience to make your relocation as easy and painless as possible!
NYC's Long Distance Moving Experts
Moving out of NYC can be as exciting as it is intimidating, but that's exactly why employing an NYC long-distance moving company like Elate Moving is the smart choice for you. It's extremely important to be as prepared and organized as possible, which can be a serious logistical challenge when considering a long-distance relocation. Moving just a few states away, moving from coast to coast, or even relocating to Canada all pose their own unique challenges, but any move of more than 100 miles is considered a long-distance move. Consequently, it's important to engage a New York long-distance mover that you can trust, one whose experience and knowledge will give you the assurance that your belongings will arrive as quickly, safely, and securely as possible. Luckily, that is exactly what you'll get with Elate Moving, since we have been moving people, businesses, collections, and offices from NYC to Los Angeles, Chicago, Miami, Toronto, and dozens of other locations for several years, and we have acquired expert knowledge and robust resources that we bring to bear for your relocation. No matter where in the country you're going, we can guarantee that your long-distance move will be completed within the week!
Not only should a long-distance moving service have experience and expertise, but they also need to have the resources that will enable them to perform their job to meet your high standards. Elate Moving is a fully licensed and insured NYC long-distance mover, registered with the Department of Transportation enabled to transport items across state and city lines. If you're relocating to Canada, we are able to assist you with the paperwork and processing for declaring items, passing border control, and navigating the customs process. Additionally, we will have fully equipped teams ready at both your pickup location and your destination to ensure that everything is always in the best hands.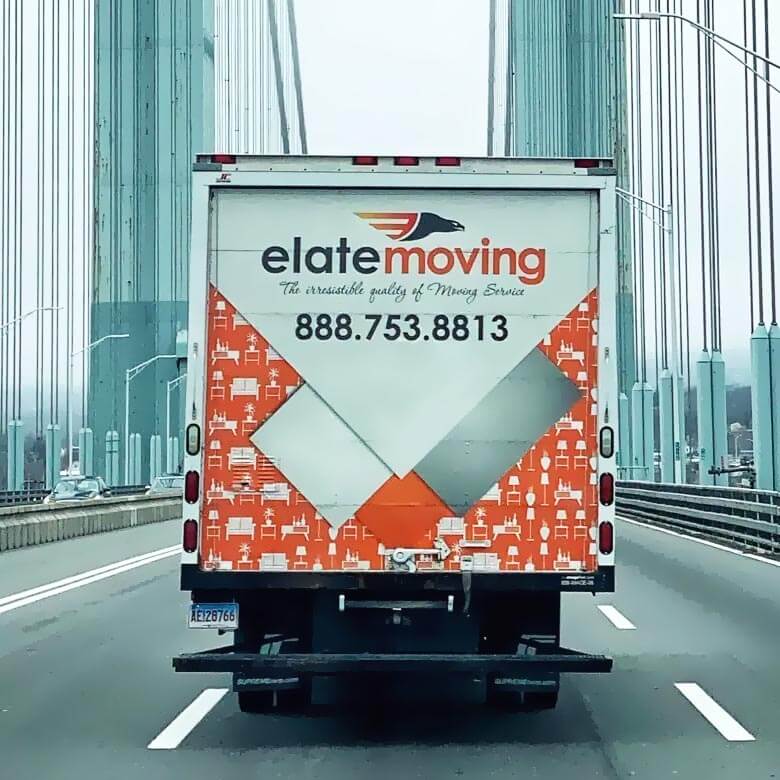 Whether you are relocating your home, your business, or moving items into storage, you will need a long-distance moving service who can guide you through every step of the process. The most important part is planning, which mostly involves taking a detailed inventory of the furniture, items, and other belongings that will be transported. We will work with you to identify any fragile, cumbersome, or high-value items to make sure that we anticipate any challenges or obstacles before we even begin packing. Before the move, we will be in touch with you to offer you a quote for the cost of moving, based on your destination the items that you need relocated. As experienced New York long-distance movers, we will be in communication with your building managers to make sure that we navigate any obstacles that your apartment or office building might pose. Elate Moving will work with you to arrange an ideal pickup time, and we will coordinate with our movers across the country to map out exactly when and where your items will arrive. During the move itself, you can relax as Elate's professional teams pack up your items and load them into our moving vehicles. We have tons of packing, protection, and mobility resources such as moving boxes, heavy-duty tape and packaging, dollies, hand trucks, and ramps to move everything smoothly and carefully. We are also happy to provide you with these resources in advance of your move, if you would like to get a head start on the packing process. Once we arrive at your new destination, our unpacking teams will move your items into their new home with the same dedication and attention to detail that we used when loading them up. We are able not only to move your belongings, but also can help with arrangement in the new space, unpacking and unwrapping, and even installation and connection of appliances and equipment. If you are in need of short or long-term storage, we are equipped with many facilities and storage partners to allow you the convenience of keeping your items safe and secure while they await relocation to their final destination. Finally, we will follow up with you after the move to address any questions and ensure your complete satisfaction! Reach out to us today and use Elate Moving as your choice for long-distance movers in NYC.
To get your MOVE PRICE please provide us details for your move. It's Free and takes only 30 seconds!